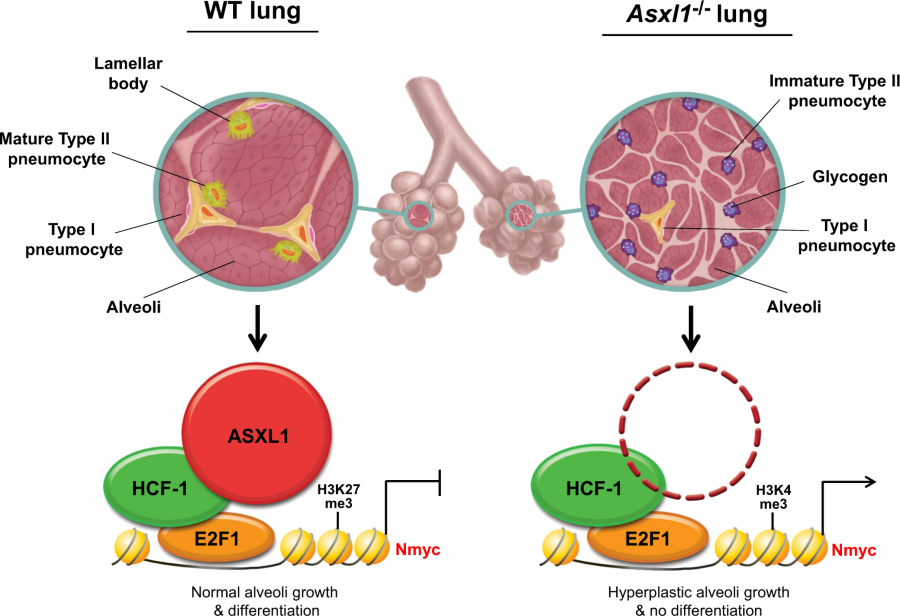 An important step towards a better understanding of the mechanism of ASXL1 mutation and Bohring-Opitz syndrome!
Little is known about the role of an ASXL1 mutation in the organ development. "Recent studies using Asxl1-null mouse models indicated a critical role for Asxl1 in development. Depending on the model, Asxl1 loss causes embryonic lethality and developmental abnormalities, including dwarfism, anophthalmia, microcephaly, kidney podocyte defects, and craniofacial defects." In this study, published in 'Cell Death and Disease', Moon et. al. discovered that ASXL1 gene affect the lung development. They noticed that Asxl1−/− mouses were dying just after birth due to cyanosis, a respirator failure and suspected a reduced air space and a defective lung maturation. This prompted the researchers to investigate the underlying mechanism, focusing on the role of Asxl1 in lung development. Comparing a normal wild mouse, the Asxl1−/− mouse lung sank and […] failed to inflate with air because of its thicker alveolar wall, smaller air space, and more numerous small alveoli.
In most of the patients with Bohring-Opitz Syndrome the novo mutation in ASXL1 has been identified. Respiratory infections and reactive airway disease are common in patients with BOS and leading cause of death in the first two years of live (Russell et.al. 2016).
» Read here the article: Asxl1 exerts an antiproliferative effect on mouse lung maturation via epigenetic repression of the E2f1-Nmyc axis. By Seungtae Moon, et al. Cell Death & Diseasevolume 9, Article number: 1118 (2018). https://doi.org/10.1038/s41419-018-1171-z